Our Top Tips for Taking Online Lessons
Sunday, August 23, 2020 by Jose Quesada | Lessons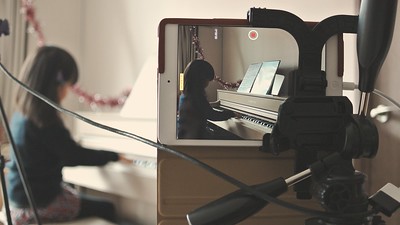 Photo Credit: Sakurako on Flickr
The COVID-19 outbreak has changed the way most people take piano lessons. More and more students are turning away from in-person lessons to take online lessons. While online lessons work as fine as in-person lessons, many people find them challenging and overwhelming. The present guide is intended to summarize our recommended actions that students can take to have a positive experience when taking online lessons.
Take Online Lessons as You Would Take In-Person Lessons
It is common for students to take online lessons more casually. When taking lessons, dress up accordingly and spend some time preparing. 30 minutes before the lesson begins, clean up your space, connect your devices, check your internet connection on speedtest.net, and locate all your materials. When possible, make sure you have a private and quiet place to take your lesson. If you have some time left, spend it warming up or going over your homework assignment. At the time of the lesson be ready to call or receive a call on time. During the lessons behave appropriately as you would do in an in-person lesson.
Record Your Homework Assignments
Performing live over the internet is challenging. Teachers rely on the quality of the internet connection and the audio settings to have an accurate listening of the composition. Instead of planning to perform online, record your homework assignment and send it to your teacher beforehand. In the case of theory assignments, you can take and send pictures of your homework.
Use Devices and Platforms That Makes You Feel Comfortable
The ideal online lesson will have two digital pianos and two computers connected over the internet via ethernet cable. On top of that, students and teachers may enhance the audio quality with microphones and headphones or speakers. While that is the ideal setting, the setup can be stressful for the student. Being emotionally stable is more profitable than having the right equipment. A happy student with a cell phone will learn better than a stressed student with the ideal setting. Use the electronic device and the video call system that makes you feel more comfortable.
Improve Your Connection
If you want to go an extra mile to improve your lesson experience, know that your internet connection is the most impactful factor. Check your internet connection before each lesson using speedtest.net. Check which electronic devices get connected better to the internet. When possible get closer to your router or improve your connection with an ethernet cable or a wireless range extender.
Improve Your Sound Quality
It is important that students and teachers are able to hear each other clearly. Use headphones or speakers to improve the sound that comes out of your electronic device and use external microphones to improve the sound you are sending to your teacher. Depending on the video call system that you use, you may take additional steps to improve the sound quality.
In all circumstances keep your goals at hand. If your goal is to have fun and enjoy music, keep the settings simple and enjoy each minute of your lesson. If your goal is to earn achievements or awards at a more professional level, invest in improving your audio settings and your internet connection.
A soft answer turns away wrath, But a harsh word stirs up anger. Proverbs 15:1 NKJV
Our Story
Sunday, August 23, 2020 by Jose Quesada | Zion Piano Studio
God made us with an ability to play music. Jose Quesada was born in San José, Costa Rica. Won Yong Lee was born in Incheon, South Korea. José learned to play several instruments (especially piano) in Costa Rica and the United States. Won Yong learned to play the piano in Korea, Argentina, and the United States.
Both moved to Fort Worth in 2008 to continue their studies at Texas Christian University. At TCU, José audited a class of business for musicians. The class encouraged him to be an entrepreneur. The Zion project started as a concert series in Costa Rica and it continued as a home piano academy in Texas. Zion Piano Studio opened its doors in 2015 in a small apartment with one student and one piano. In 2017, the Quesada family (and the Studio) moved to the City of Benbrook.
We love teaching music because it allows us to connect with people. We pass knowledge and help students develop their musical abilities, but our mission goes beyond weekly piano lessons. We think of our students and families as our neighbors (Mark 12:31) and we do our best to love them and help them in the best way we can. Piano teachers can produce a positive impact in the life of their students. They can also build strong relationships that can last a lifetime.
Jeremiah 1:5 says "Before I formed you in the womb I knew you."