Music for Toddlers in Benbrook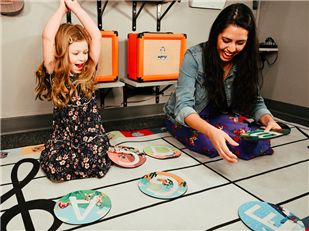 Description
Music for Toddlers provides private music lessons in the Benbrook area for early childhood students (ages 2 to 6). Students meet weekly for 30 minutes with one of our qualified teachers to explore music as a general subject and to learn basic music notation symbols in a fun and age-appropriate way. Students completing the Music-for-Toddlers curriculum (2 years) are ready to begin private piano lessons.
Curriculum
Tuition
30 minutes: $140/month + supplies
The tuition fee includes 45 weeks of music instruction per year. Students can schedule up to three make-up lessons in the Fall and the Spring, and up to four make-up lessons in the Summer. Students can substitute summer lessons for a summer camp when available. Tuition is paid by the first lesson of each month. The Zion Piano Studio will charge a supply fee when needed for the purchase of individual music books.
Books and Supplies
Do you have a question? Contact us.